Hurra for #treningstirsdag!
På søndag skrev jeg litt om hvordan jeg tester ut noen av øktene til denne Kayla Itsines om dagen, bare for å bli litt klok på hele greia. Jeg og Maren svettet oss igjennom 60 svette minutter på lørdagen, og det samme skal dere få lov til å gjøre i dag. Om det frister 😉
Tidligere i dag blogget Maren om økten vi kjørte sammen. Sjekk den ut her. Jeg dauer litt av at jeg i skrivende stund publiserer noe som kalles «Bikini Body Guide», men det får så være – det er i researchens navn. Og som jeg nevnte på søndag, hvem er jeg til å dømme noe jeg ikke har testet 🙂
I dag holder jeg det enkelt, og lar videoene snakke for seg – enjoy!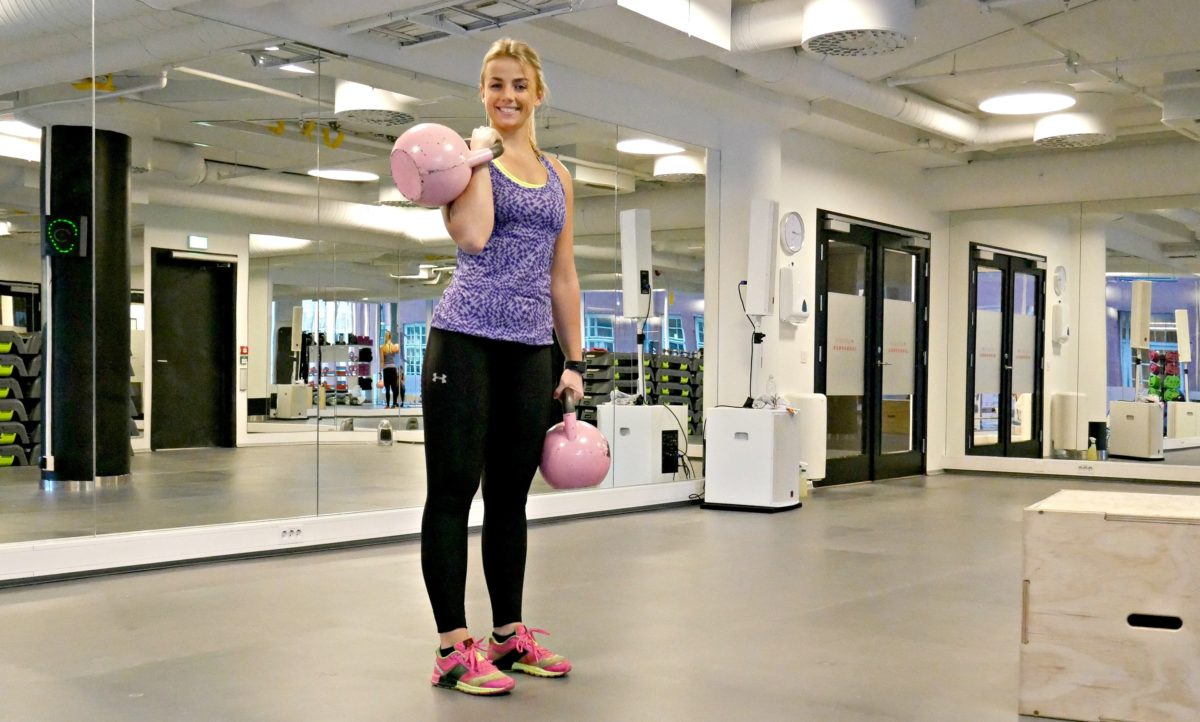 Oppvarming
Kjør en lett oppvarming, f.eks litt dynamisk oppvarming, pluss 1000 meter på romaskinen, noen minutter på mølla eller litt kjapp sykling. Det du trenger for å få varmen i kroppen 🙂
Hoveddel
Nå begynner moroa, kun ved hjelp av din egen kroppsvekt (pluss litt til da). Utover den trengr du to hantler eller kettlebells, så tunge som du selv ønsker, pluss en step, aller helst i knehøyde. Totalt består økten av 7 minutter arbeid, 2-3 min pause X 4. De to første syvminutterene kjører du bolk 1, som er videoen under, og de to siste kjører du bolk 2, som er den siste videoen i dette innlegget.
Det er lov å ta seg litt lengre pauser innimellom slaga altså, om det trengs.
Takk til Studio Jobbsprek for lån av lokaler, Christian Colliér på Soundcloud for musikk og fineste Maren for superduper filming, hehe.
Og så er du ferdig, enkelt og greit. Det jeg liker så godt med økter som denne er at du ikke trenger så mye utstyr, du får jobbet bra med hele kroppen, pulsen får kjørt seg, svettepumpa jobber.. mye som skjer på én gang, rett og slett. Kvaliteten på økta bestemmes i stor grad av hvor bra teknikk du har, så pliis, gjør meg en tjeneste – sørg for å jobbe hardt, for all del, men ikke hardere enn at du klarer å ha en kontrollert og god teknikk hele veien.
Jeg ble overrasket over hvor slitsom denne økten faktisk var, og tror nok du kommer til å bli det samme..
God trening! 😀